Instruction to Candidates of TET Examination on 30.08.2015
School Education. Teacher Eligibility Test.
WEST BENGAL BOARD OF PRIMARY EDUCATION
Acharya Prafulla Chandra Bhavan
DK 7/1, Sector – II, Bidhannagar, Kolkata 700091
Date: 25.08.2015
SOME IMPORTANT INSTRUCTIONS TO THE CANDIDATES OF THE TET EXAMINATIONS, TO BE HELD ON 30.08.2015 REGARDING FILLING UP OMR WITH ILLUSTRATIONS
1. OMR Answer Sheet will be provided separately along with Question Booklet.
2. For Section I the candidate has to select the Medium of School as Opted in his/her Application Form to determine the First Language and the candidate should answer the determined Language Questions only.
3. The candidate must ensure that the Question Booklet Code printed in the Question Booklet has been written and filled correctly at the prescribed place in the OMR Answer Sheet.
4. There are 150 Questions in five sections. All questions are of MCQ (Multiple Choice Question) type. There is only one correct answer to each question carrying one mark. There will be no negative marking for wrong answer.
5. With each question you will find 4 possible answers marked by the letters A, B, C & D. Read each question carefully and find out which answer, according to you, is correct. Indicate your answer by darkening the appropriate circle completely in the OMR Answer Sheet, corresponding to the question. For marking answers use black ball point pen only. Gel pens/pencils are not allowed.

6. Rough work, if any, may be done in the Question Booklet only in the space provided at the end of the Booklet. Do not tear it off from the Question Booklet. No additional paper shall be provided.
7. OMR Answer Sheet is designed for computer evaluation. If you do not follow the instructions given above and shown in the OMR Answer Sheet, it may make evaluation by computer difficult. Any resultant loss to the candidate on the above account shall be of the candidate only.
8. An example is illustrated below of how to write and fill in your own details:
Assume your Form No./Roll No. is 135479218, and you have filled in the following details in your application form
Medium of School Opted – BENGALI Gender – MALE
Category 1 – SCHEDULE CASTE
Category 2 – You are not an Ex-Serviceman/Exempted Category/Para Teacher & Others (Hence Blank). Question Booklet Code issued to you is PHB and your OMR Answer Sheet No. is 137658429 and you are a Trained candidate.
You are required to write in the boxes and fill in the bubbled as shown below.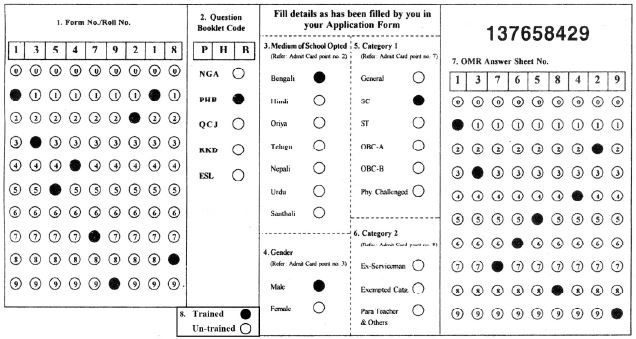 Sd/- Dr. R. C. Bagchi
Secretary
Related Notification
None found