Format of Question Paper in Higher Secondary Examination, 2023
West Bengal Council of Higher Secondary Education
Vidyasagar Bhavan
9/2, Block DJ, Sector-II, Salt Lake, Kolkata- 91
No: L/Secy/70/2022 Date: 07/09/2022
NOTIFICATION
Subject: Format of Question Paper in Higher Secondary Examination 2023
Attention: All Heads of Higher Secondary Institutions, teachers, Head Examiners, Examiners, Invigilators and candidates for Higher Secondary Examination, 2023
Based on feedback received from the students, Head Examiners and Examiners, the council has decided about changing the format of the question paper in Higher Secondary' Examination 2023. As directed, all concerned with H.S Examination 2023 are being notified about the following decisions taken by the Council:
Instead of separate Question Papers for Part A and Part B [Question cum Answer Booklet], there will be only one integrated Question paper. So, Part A and Part B need not be attached together at the end of the examination as has been done last few years.
The candidates would be provided with blank answer script as in Class XI Annual Examination in which they will write the answers to all questions. They should not to write any answer in the question paper.
Sd/- Tapas Kumar Mukherjee
Secretary-in-Charge
WB Council of US Education
No. L/Secy-70 dated 07.09.2022, Source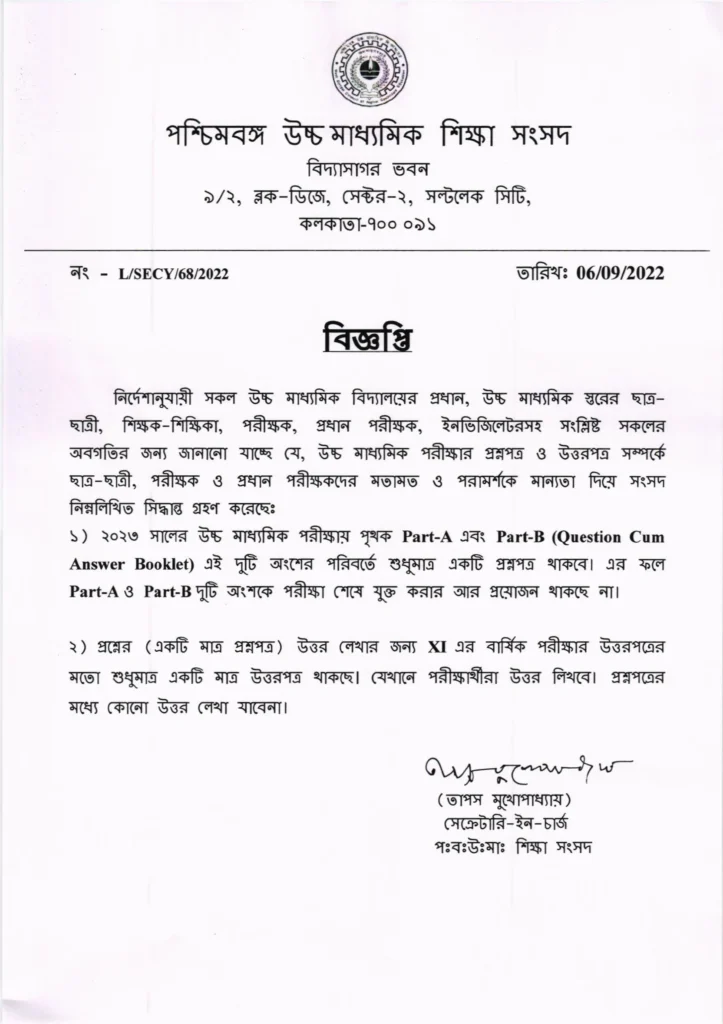 Higher Secondary Education, Question Pattern
Related Publication
September 12, 2022