Basic Retirement Benefits Calculator for West Bengal Govt. Employees
Utility: Basic Retirement Benefits Calculator
Version: 1.1.0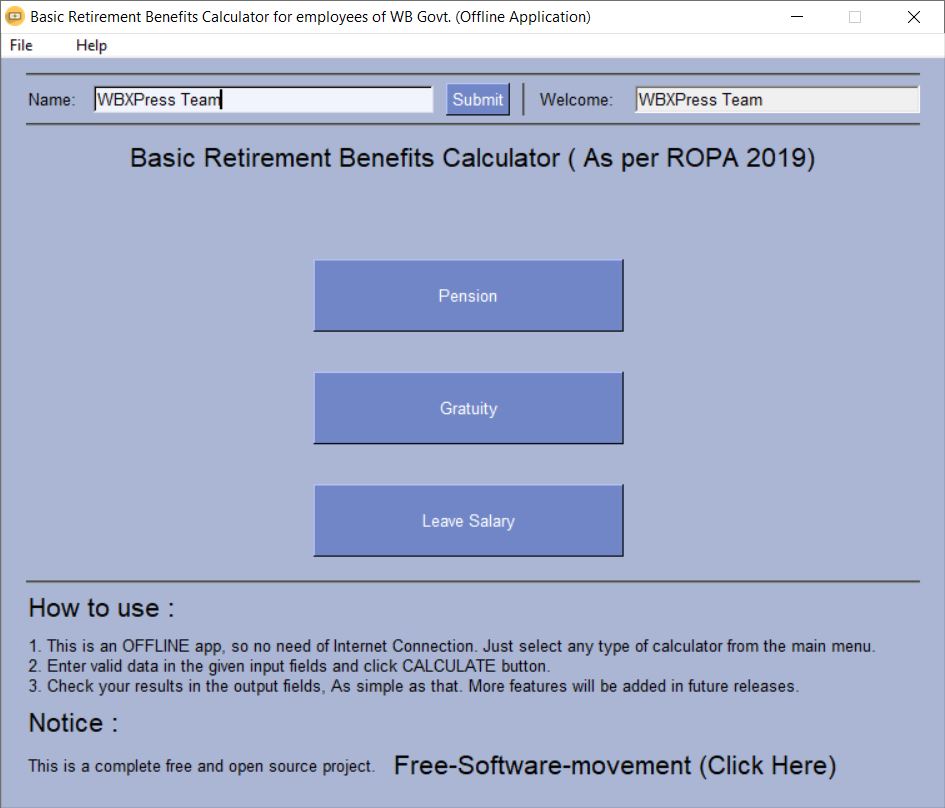 Basic Retirement Benefits Calculator for West Bengal Govt. Employees, is a lightweight, easy to use desktop application. It's completely free and open source. This application is about calculation of retiring pension (including family pension), retiring and death gratuity and leave salary in one single app. The user can also generate pdf printable reports from the app.
Salient Features:
This is an Offline application, so no need for an Internet connection.
Basic Pension, Gratuity (Retiring and Death) and Leave Salary Calculators in one application.
Easy to use, just input required data and click on the calculate button. Also you can generate reports and print them.
Updated on the basis of the latest Govt. rules and orders (ROPA, 2019).
This Calculator is created using Python Language.
This application is completely free and open source licensed under GNU. This means you can also modify it for betterment.
The application is properly optimized for Windows 10 and older versions.
About the Author:
This utility is created by Mr. Sourav Ganguly, WBA&AS, currently posted as Additional Treasury Officer, Finance Department, Government of West Bengal.
Finance, Family Pension, Gratuity, Pension
Related Publication
May 6, 2022