Admission Procedure in Schools for Elementary Classes, 2012
Government of West Bengal
School Education Department
(Law Branch)
Bikash Bhawan, Salt Lake, Kolkata – 700 091
No. 1480-SL/5S-116/2010 Pt-I Dated: 09.12.2011
From: S. C. Ghosh,
OSD & Ex. Officio Deputy Secretary.
To: 1-18) The District Magistrate … (all districts)
19-37) The District Inspector of Schools(SE) … (all districts)
38-56) The District Inspector of Schools(PE) … (all districts)
Sir/Madam,
You might be aware that it is the statutory obligation of the State Govt. to ensure free & compulsory education to every child of the age of 6 to 14 years in a neighbourhood school till completion of elementary education as per provision of RTE Act, 2009. The next academic session 2012 will be stated from 1st January, 2012. It has been decided by the School Education Department that admission in elementary classes for the academic session 2012 will be done through lottery. In this connection I may like to inform you that we have issued guidelines for conduct of lottery vide this Deptt. No. 628-SE(P)/10M-186/2010 dated 12.11.2011 and 1435(59)-SE(SL)/5S-116/10 (Pt-I) dated 22.11.2011.
Now, confusion arises as to how the process of admission in class-V will be dealt with when a primary school functions in the same building/premises of the High school. I am directed to clarify that if there is a primary school in the same premises of the Secondary school they are to be treated as the same unit and students of the primary school will get automatic admission to the secondary school even if they run under separate management. After admitting the students of the primary school if there are additional seats, admission to the same to be decided through lottery in accordance with this Deptt. circular as stated above. I am sending guidelines in Bengali and English for your perusal.
Further, I am directed to inform you that no charge for application form or admission fees can be collected by the school authority from the students seeking admission to a school.
This may be communicated to all concerned for immediate implementation.
District Magistrate may please ensure full implementation of this order in areas under their respective jurisdiction.
Enclosure: As stated.
Yours faithfully,
OSD & Ex. Officio Secretary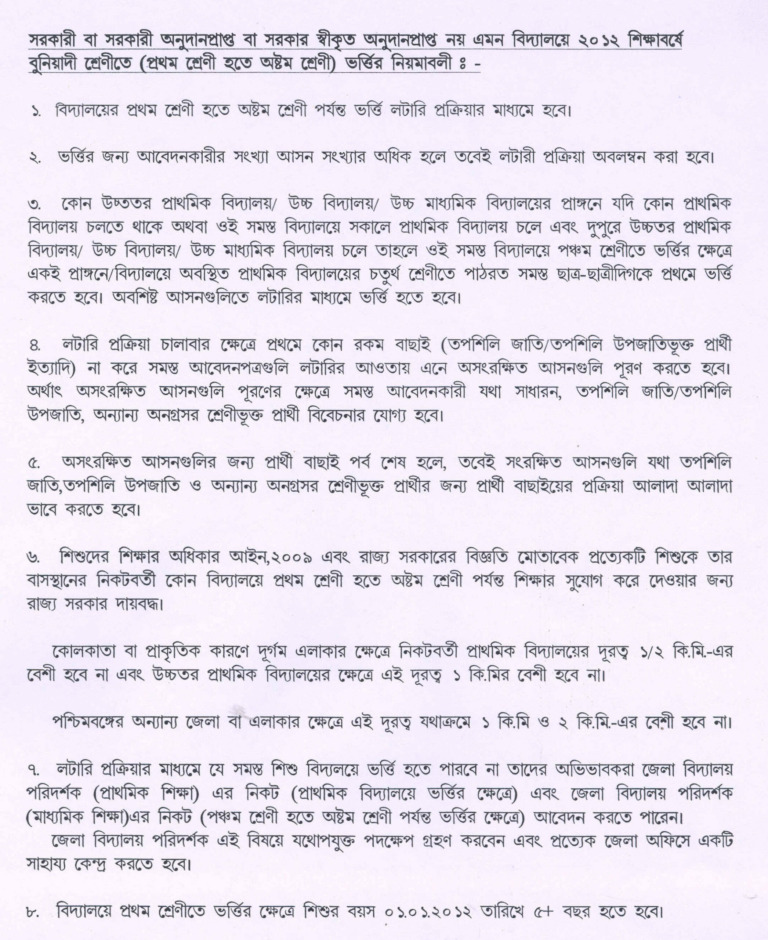 Admission procedure in elementary classes (from class-I to class-VIII) in Govt. run school or Govt. aided school or a Govt. recognized but unaided school for the academic session-2012.

1. Admission of children in school from class-I to class-VIII will be done through the process of lottery.

2. If the number of candidates seeking for admission in a class exceeds the number of seats, then and only then procedure of lottery will be undertaken.

3. If any Pry. School is located in the same premises of an Upper Pry. School/ High School/ Higher Secondary School or if a Pry. School runs in the same school building of an Upper Pry. School/ High School/ Higher Secondary School in the morning, in such cases all the students of IV of the said school pry. should be admitted in class-V of the Upper Pry. School/ High School/ Higher Secondary School as the case may be at first. The rest of the seats of class-V, if there be any, should be filled up through the process of lottery.

4. To fill up the seats meant for unreserved candidates at first a general lottery is to be performed taking into account of all applications for admission irrespective of categories. It is therefore implied that all General, SC, ST, OBC candidates and others will come under the general lottery.

5. After filling up the unreserved seats, separate lotteries are to be done to select category wise (viz. SC/ST/OBC) reserved candidates.

6. It is obligatory on the part of the State Govt. to ensure education of all children up to class VIII free of cost in a neighbourhood school as per provisions of RTE Act, 2009 and Notification issued by the State Govt. in this regard.

In case of Kolkata and other in-accessible terrains due to natural barriers, the Pry. school should be located within a distance of 1 Km from the neighbourhood of habitable area. For High School it should be less than 1 Km.

For other places in West Bengal the aforesaid distance shall not be more than 1 Km in case of Pry. school and 2 Km in case of Upper Pry school.

7. In case a child fails to manage his/her admission in any school through the process of lottery, his/her guardian will submit petition to the District Inspector of School (PE) if the admission relates to a Primary School. The application is to be submitted to the D.I. of Schools (SE) if admission sought for be from class V to VIII in a Upper Primary/High/Higher Secondary school. The concerned DI of Schools on receiving the application shall take immediate step for admission of the child in a suitable school in the neighbourhood. Further the DI should install a help line in his office and dispose of all complaints expeditiously.

8. In case of admission of a child in class-I, he/she should be 5+ years as on 01.01.2012.

School Education, Admission, RTE