Government of West Bengal
Information & Cultural Affairs Department
Nabanna, 325, Sarat Chatterjee Road,
Shibpur, Howrah – 711102
ORDER
No: 3223-ICA(N) Date: 19th August, 2021
Whereas the Policy of the State Government for releasing of Advertisement in Print and Electronic media for all Government Departments (hereinafter referred to as "the Policy" published by I&CA Department) vide Order no. 1464/Pr.S/ICA/2017 dated 10.03.2017 states, inter alia that the release of all advertisements of different Government Departments (including Corporations, Public Sector Undertakings) would be made by the I&CA Department directly or through empanelled Release agencies provided that in the latter case, such release is more economical and results in savings for the Government and;
Whereas the Committee constituted to finalize the advertisement rates for print media as per order of I&CA Department vide no. 1112(6)-Advt/DI/ICA dated 25.08.2017, after examining all aspects of the matter, has recommended that Government advertisements (including Corporations, Public Sector Undertakings) may be released through INS-accrediated agency, and;
Whereas the Order issued by I&CA Department vide Memorandum No. 3103-ICA(N) dated 06.08.2021 notifies the empanelled agencies (selected through the e-Tender Process) for Release of Advertisement to Print and Electronic Media, and;
Whereas the empanelled Release Agencies have offered their rates for release of Government advertisements (including Corporations, Public Sector Undertakings) through them in print media, for display advertisement only and electronic media (television) the said rates appear to be lower/ lesser than the rates approved for direct release of the display advertisements by the Government to media houses, and;
Whereas the said offered rates are found economical/ beneficial to the State Government as compared to the rates notified vide I&CA Department Notification No. 641/DI/ICA/2021 dated 28.07.2021, and;
Whereas the G.O. No. 1504/Pr.S/ICA/17 dated 7/7/2017 clearly stipulates that the agency making release will also make the required payments to the media house concerned and submit claims/bills, supported by the relevant documents, to the requiring Departments/ Organisations, for payment.
Now, therefore, it is hereby notified that all Government advertisements (including Corporations, Public Sector Undertakings) for display advertisements in print media and electronic media (television) will continue to be released by the I&CA Department, but such releases henceforth will be made through the following empanelled Release Agencies in the respective newspapers and TV channels as noted against each, and the rate for such release by the concerned empanelled Release Agency will be As follows:-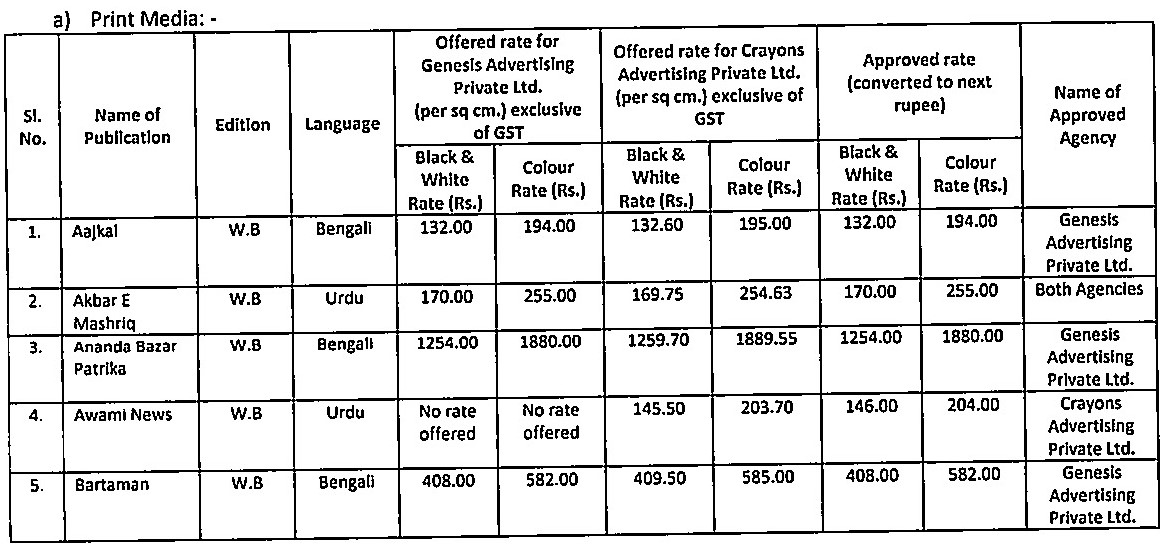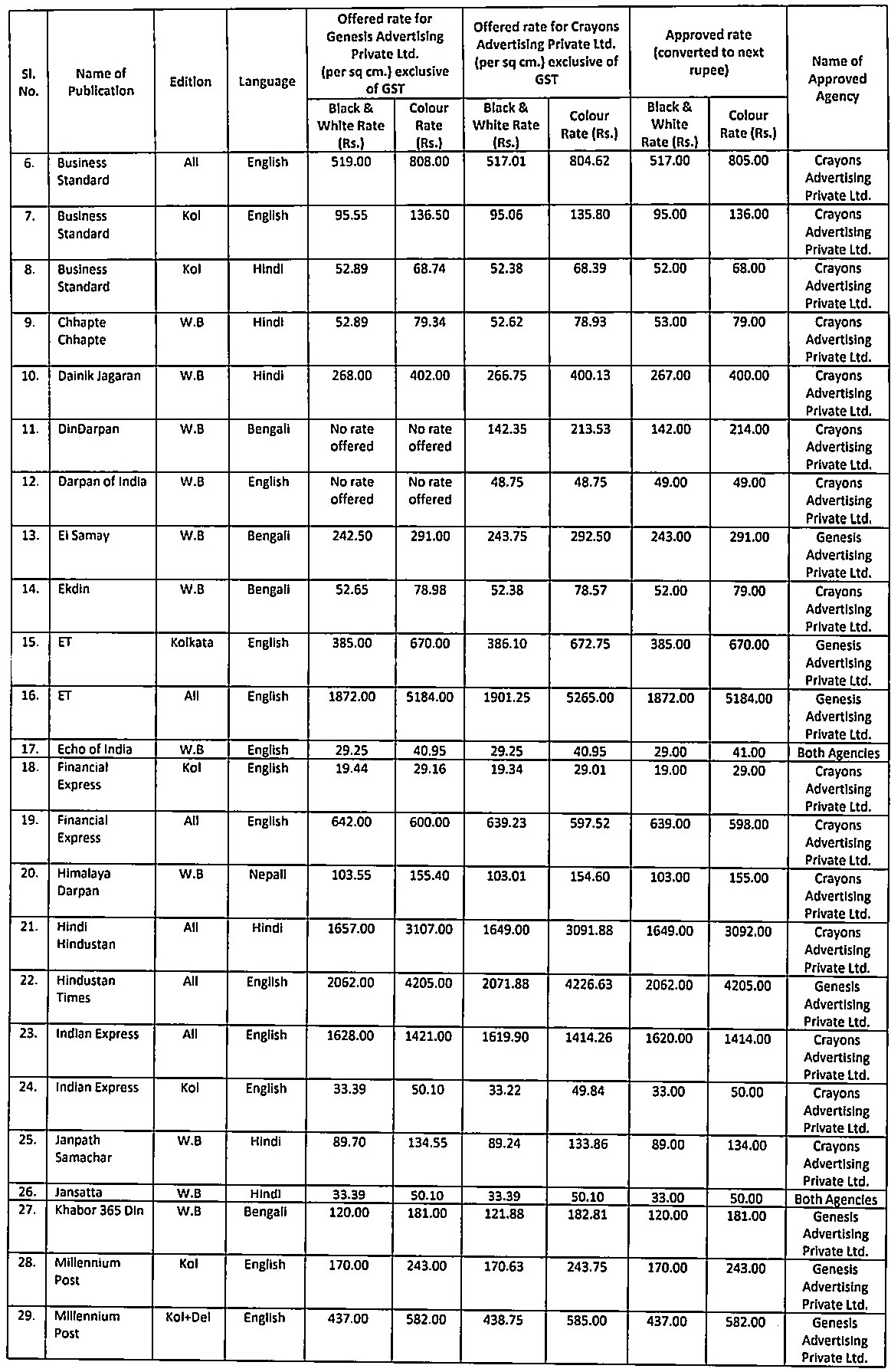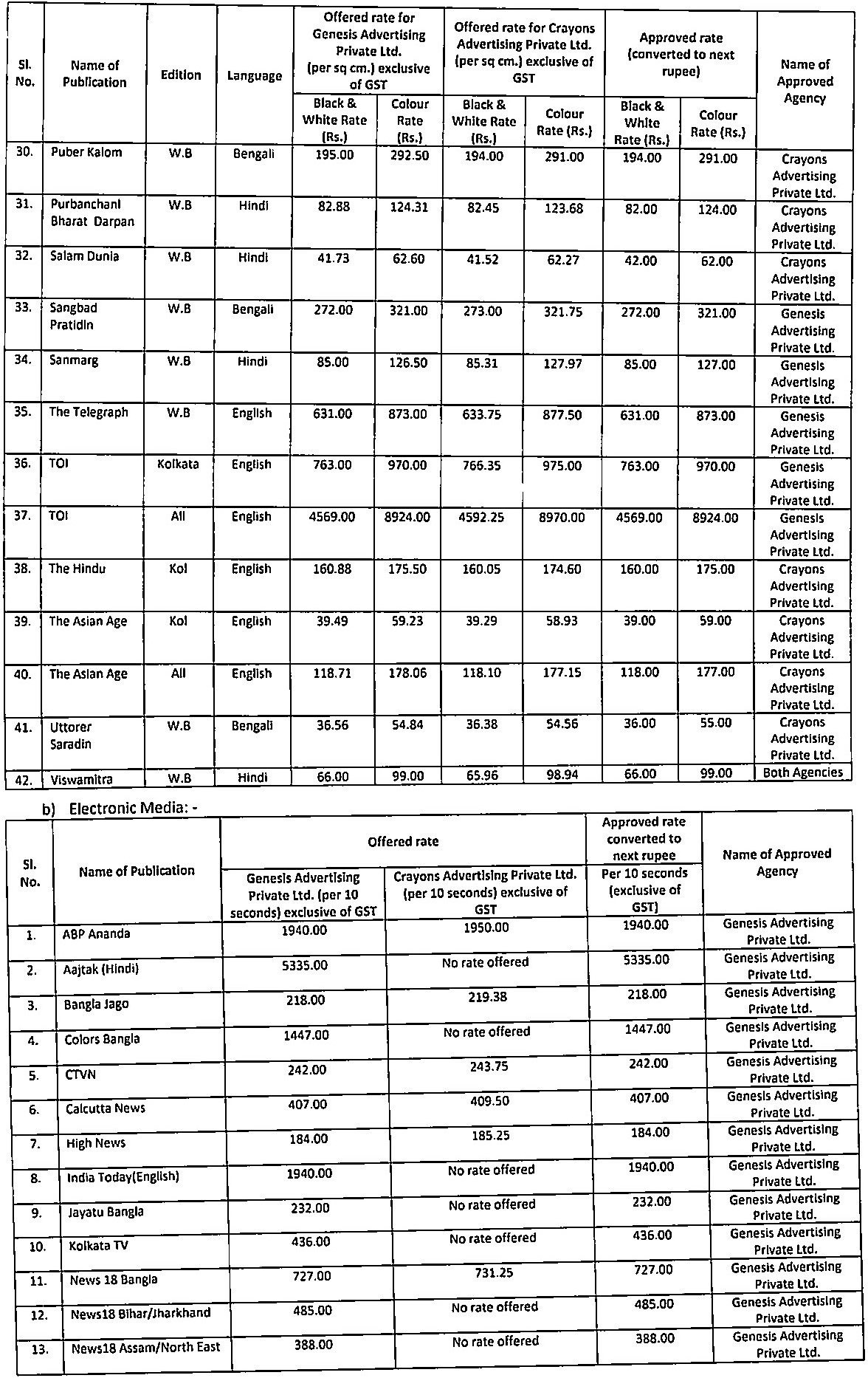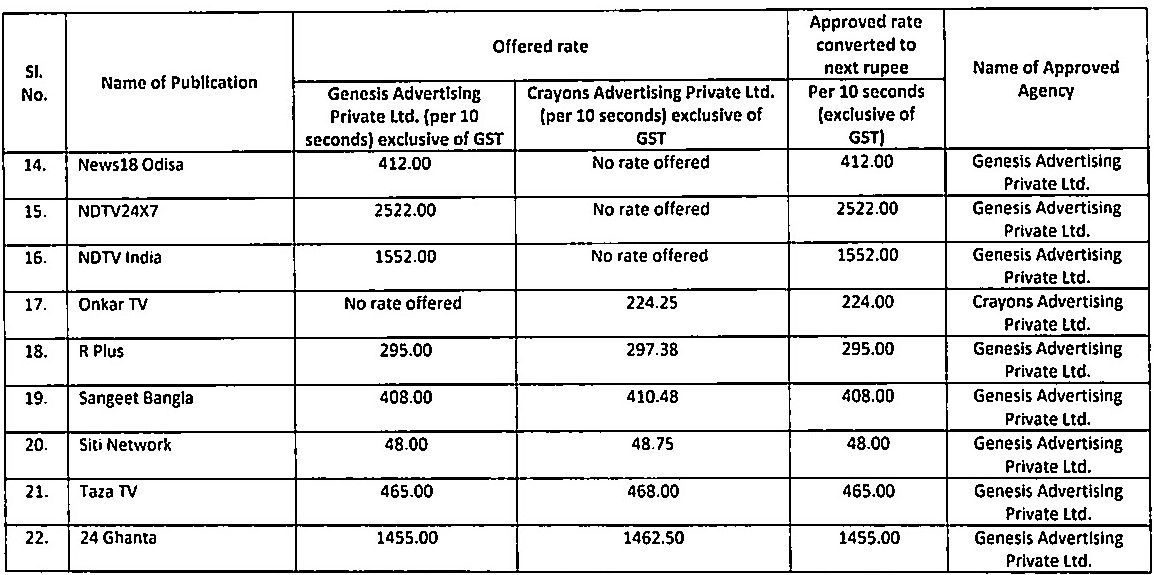 In respect of the publications where the two empanelled Release Agencies have offered the same rate, the decision of the I&CA Department in respect of Release will be final.
These rates will be applicable for all the Government advertisements (including Corporations, Public Sector Undertakings) released through I&CA Department. The empanelled Release Agency concerned, after obtaining Release Order from I&CA Department, will arrange for publication of the said Government advertisement forthwith on the stipulated date and time as mentioned in the Release Order. Thereafter, the Release Agency shall submit its claim to the respective Departments on the basis of Release Orders issued by the I&CA department for individual advertisement and payment shall be made to the agency, as applicable, by the concerned Department directly to the agency.
However, the rate for tender and notice advertisement will continue to be guided by the order issued from I&CA department vide memo no. 1824-ICA(N), dated 17.08.2020 and 3152-ICA(N), dated 03.11.2020.
This order will take immediate effect and will remain in-effect until further orders.
This order is issued with the concurrence of the Finance Department vide U.O. No. Gr.I/2021-2022/0021 dated 19.08.2021.
Sd/- S.Basu, IAS
Secretary